Favorite Fronds
Ferns are the perfect plant for your customers who want aesthetic appeal with low maintenance, especially young, first-time gardeners. This strong, resilient, 100-million-year-old species offers endless pairing options, and it is exploding in popularity on Pinterest, from its placement in wedding arrangements to its edible foliage. We've narrowed down the best picks for 2015, and spoke to experts who offered some advice about how to recommend and market ferns to your customers.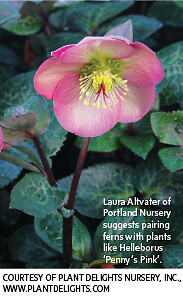 "Our most popular ferns consistently year after year are native ferns," says Laura Altvater, color buyer and manager for Portland Nursery in Portland, Ore. "Swordfern (Polystichum munitum) is a top-seller across the board."

Altvater says Swordfern is popular because it works well with habitat gardening in Portland and doesn't require much maintenance. Deer fern (Blechnum spicant) and Maiden Hair Fern Adiantum pedatum come in second and third.

Altvater's favorite native fern is the Autumn fern (Dryopteris erythrosora). Its orange growth and year-round capabilities make this 2-foot-tall fern great for the garden and for hanging baskets, too. "We have a lot of trees [in Portland], so shady baskets," she says. "It can mix with hellebores really nicely in front of a really tall bleeding heart. The pink blooms with a little orange contrast would be fun."

Jeremy Schmidt, research horticulturist at Plant Delights in Raleigh, N.C., says he anticipates ferns growing in popularity in the coming years. "I think there are going to be more and more shade gardens and a lot of smaller gardens. There's always a place where you can tuck one plant into that always looks good," he says.


A top-seller for Plant Delights is Arachniodes standishii, also known as the 'Upside-Down Fern,' which comes from Ulleung Island in Korea. Its lacy, cut-leaf fronds pair well with Hosta 'Cathedral Windows' and Helleborus 'Anna's Red' or 'Penny's Pink.' "The foliage on [the helleborus] is worth growing for alone," Schmidt says, as the leaves themselves have red and pink hues interwoven in the green ones.

Schmidt also offers some uncommon combinations. "Trilliums are one of those plants that some people sell as a poached plant, it can be a little tricky. Some are endangered, but if you find the right place, you can find ethically harvested or nursery seed-propagated trillium. Some of the coarse-textured Arisaema 'Crossing Over' (Crossing Over Jack-in-the-pulpit) goes great with that fern or any fern."

And if you're looking to grow upward, Altvater suggests the 3- to 5-foot cinnamon fern (Osmunda cinnamomea). "It has cinnamon-colored new growth fronds in the spring and as the fronds mature, they mature to green, she says. So many shade perennials are more on the fluffy side, so this would have a nice striking line."

"Another great thing to put with ferns is more ferns," Schmidt says. Arachniodes standishii, which is an evergreen fern, can be paired well with the deciduous Athryium 'Ghost.'

For every landscape and hardiness zone, there's a fern that will help enhance your customer's outdoor space.

The right fit

Although fern trends are on the upswing, retailers still have to take the right steps to ensure their customers are getting a plant that will work best in their indoor or outdoor scenery.

"First I try to find out what the landscape situation is," Altvater says. "If it's going to be very dry and drought-tolerant, or if they can have regular watering, some of our native ferns are a little more acclimated to our drier summers, whereas something like the Japanese-painted ferns, which are also popular here, would want some regular water.

"Some of the ferns, like the Japanese holly ferns Cyrtomium falcatum do want a little bit of sun, so they wouldn't be as happy in a deep shade situation as some of the other ferns. And if it's a very damp area, near a creek [for example], you might want to point them to a royal fern or cinnamon fern," she says.

And keep in mind that some ferns are even edible.

"Some are more delectable than others," Altvater says. "The royal fern, Osmunda regalis is one of the tastier ones." But don't suggest ferns with hairy textures, like the Alaskan fern or the Bracken fern. Those are a little harder to stomach.

Ferns don't necessarily have to be coupled with other traditional plants in your garden center. Natural-looking hardscapes can look just as attractive, Schmidt says.

"If I owned a garden center, I would have a section [where] I would sell stones, rocks and moss because you just need one fern and you can stick it right out of an old stump, or right next to a rock, and just that alone — even if you have no other plants around — it is enough to create an entire outdoor room."